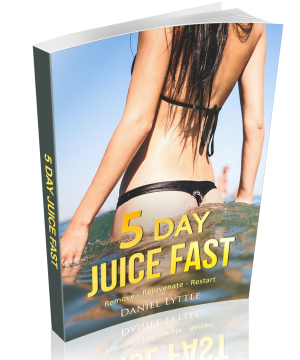 5 Day Juice Fast
Remove - Rejuvenate - Restart
Like any health and fitness professional, I have spent years trying to stream line the process, sift through the nonsense and deliver all the best theories and processes for true health and optimum ageing.
After years of research, trial and error and succeeding, I needed to find a way my clients could take back their health rapidly.
My primary purpose was to re-nourish a neglected body, helping them get back on the bandwagon of a better body, and longer future.Fat, Sick and unhappy people all have one thing in common – they are nutrient deprived.
When creating this book, I wasn't looking for a rapid weight loss program – although that is what I found.
As you will read in this condensed 'how to' book, when provided with the right environment, the body is capable of miracles.We ended up with a 5 day program, that anyone can follow.
Learn how Juice Fasting can help you to :-
Feel better
Shed kilos
Clean your skin
Reduce joint pain
Increase your energy
Decrease that brain fog
or just take a huge sledge hammer to your wall of bad health, this program will do it.
Its not intended as a long term solution. How to stay on track from week to week, month to month, or even year to year as a better way of living, will be in part two (coming shortly at DanielLyttle.com)
Until then, enjoy this book, keep in touch and lets advance in health together.